Contact Us
A-39, Basement, Amrit Nagar, South Ext. Part-1, South Delhi, Delhi, India - 110003
Phone :
+91-011-65969300
Mobile :
+9871191135/9910190893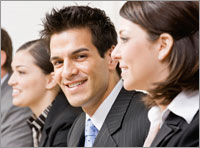 Providing gamut of services according to the placement and recruitment need of the candidates and the clients, Skywings Advisors Private Limited has carved a niche in the placement and recruitment industry in a short period of time. With prompt and reliable services such as Training & Development Services, Recruitment Services, Internship Services, Mass Hiring Services and Overseas Recruitment Services, we have successfully created a bridge linking the candidates and the clients benefiting both in the process. Located in New Delhi, Delhi, we are one of the top companies operating in the human recourse domain since 2011.
Having the strength of highly experienced and trained HR professionals, we are able to provide the clients with the best and the brightest candidates to their job openings. Also, we provide the candidates with Training & Development Services and Internship Services with the intention of preparing them for job openings in the reputed companies where they can excel and grow professionally.